When:
March 15, 2014 @ 5:30 am – 8:30 am
2014-03-15T05:30:00+00:00
2014-03-15T08:30:00+00:00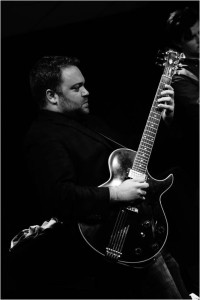 "…a confident explorer of contemporary grooves and harmonies, Harley's playing on electric and acoustic guitars strives for the warmth and flow of Pat Metheny….." – Ottawa Citizen
"….On Hedgerow, Card's sophisticated but accessible writing and the committed, well-measured playing from all hands are a potent combination."  
 -Ottawa Citizen
Guitarist/composer

Harley Card

has been a major contributor to Toronto's  creative music scene for the past decade. His music has been described as ranging from infectious swing to introspective and unfolding. Harley's compositions employ a vast array of textures and moods held together by strong melodic themes. His acoustic and electric playng breaks free of easy definitions. In some compositions, there are fluid and lyrical Metheny-like phrases layered over a driving rhythm section.  In others, he employs an almost R&B approach reminiscent of the 1970s Jazz Crusaders.  This music is warm and inviting and somehow familiar.  Harley has performed with 

Alex Dean, William Carn, Michael Herring, Michael Davidson, David Virelles, Jon Challoner, and Caitlin Smith, among others.
Harley's latest release is Hedgerow (2013) and he brings the quintet from that recording to the Jazz Room.
Harley Card– Guitar
David French- Tenor
Matt Newton-Piano
Jon Maharaj-Bass
Fabio Ragnelli- Drums