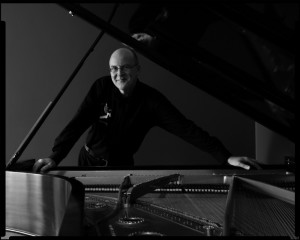 John Sherwood is recognized by his peers and audiences alike as one of the top jazz pianists in Canada today. Although he has his own distinct style, Oscar Peterson's influence is unmistakable.  In 1978, after spending years as a classically trained pianist, his older brother gave him a copy of the Oscar Peterson's Pablo recording "Paris Concert"' and John spend hours transcribing Peterson's solos. Although he has his own sound, OP's influence shines through.
John appeared regularly with vibes master Peter Appleyard and has performed, toured and/or recorded with a lengthy list of other jazz greats including Moe Koffman, Guido Basso, Rob McConnell, Ed Bickert, Jake Hanna and Butch Miles.
John's trio for his jazz room date includes:
Terry Clarke – Drums.  Terry has worked and recorded with The Toshiko Akiyoshi Jazz Orchestra, Helen Merrill, Toots Theilemans, Ann Hampton Callaway, Red Mitchell, Marvin Stamm, Jim Hall, Bill Mays, Roger Kellaway, and Joe Roccisano, to list a few, and is a member of the Order of Canada
Pat Collins – Bass.  Pat has performed with a long list of the elite of Canadian Jazz musicians including Oscar Peterson, Diana Krall, Rob McConnell, Renee Rosnes, and others. He's worked with such international artists as Kenny Wheeler, Jimmy Cobb, and Lee Konitz.
John plays "The touch of your Lips" at the Old Mill in Toronto…..