When:
April 26, 2014 @ 5:30 am – 8:30 am
2014-04-26T05:30:00+00:00
2014-04-26T08:30:00+00:00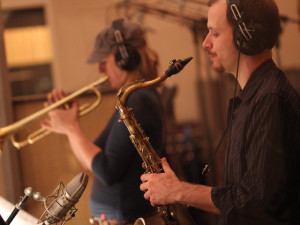 "Michael Webster's creations are long, unfurling musical journeys chock full of content. Singable melodies come swathed in a background of advanced, modern harmonies and adventurous, challenging rhythms" – Ottawa Citizen
New York based tenor saxophonist and composer Michael Webster bring his sextet Momentus to the Jazz Room on
 April 25.
 The band plays  music that creeps up on the ear, like an ocean tide slowly overtaking the shore. Webster has been described as 'Paul Winter's wayward progeny that veered off into enthomusicology on Mars',  and he has brought together some of the leading NYC jazz musicians of his generation for this tour in support of his latest recording -Momentus – on OA2 Records. The post ECM cool school vibe is alive and well in the hands of Webster and company.
The band includes:
 Ingrid Jensen – trumpet. Ingrid is a Vancouver native but a longtime NYC native.  She's a Grammy winner  as a member of the Christine Jensen Orchestra, she's backed Corrine Bailey Rae
on Saturday Night
Live and she has played with musicians as diverse as Clark Terry, Terence Blanchard and Peter Frampton.  Currently, Ingrid is an artist-in-residence on the trumpet faculty at the University of Michigan in Ann Arbor.
Chris Dingman – Vibraphone.  In 2012 Chris was named rising star vibraphonist of the year by downbeat magazine, was an Up-and-Coming Artist of the Year nominee at the Jazz Journalist Association Awards, and was featured on NPR's Piano Jazz: Rising Stars. Chris has performed with Herbie Hancock, Wayne Shorter, Jimmy Heath, and many others.
Ike Sturm – Bass. Ike is the  Assistant Director of Music at St Peter's in Manhattan, internationally known as the "Jazz Church".  The recording of Ike's large scale composition "Jazz Mass" received a 4 1/2 star rating in Downbeat and was named as one of the best recordings of 2010 by that magazine.  He has performed with Kenny Wheeler, Maria Schneider, and others in the jazz realm as well as with minimalist composer Steve Reich.
Jared Shonig – Drums. Jared last visited the Jazz Room as co leader of the Wee Trio and he has played as a sideman with Wynton Marsalis, Fred Hersch and Dave Liebman, among others. He currently holds the drum chair for the Broadway revival of the multiple Tony-Award winning production of Pippin.
Jessie Lewis -Guitar.  Jessie is a NYC resident, but he has performed all over the word and has shared the stage with jazz greats such and Nicholas Payton, Ellis Marsalis, Chris Potter, and others.
Ingrid Jensen- Trumpet
Chris Dingman- Vibes
Jesse Lewis-Guitar
Ike Sturm-Bass
Jared Schonig- Drums
Mike Webster-Tenor