When:
April 24, 2020 @ 8:30 pm – 11:30 pm
2020-04-24T20:30:00-04:00
2020-04-24T23:30:00-04:00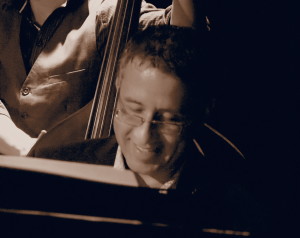 Robert C. Fekete is a Canadian Jazz pianist and composer who shares his musical philosophy with others through performance and audio recording. His roots are planted firmly in classical and jazz traditions; however he aspires to build a bridge between modern popular music and older musical art forms without losing his focus on the relevance and necessity of art in the world. Robert recognizes the importance of recruiting young people to the jazz art form. He conveys this message through his musical compositions and when he performs live. Currently he is  teaching jazz piano and ensembles at Mohawk College and teaching Jazz improvisation, Jazz piano, and Jazz vocal at McMaster University in Hamilton, Ontario, Canada.
Laura McNabb is a graduate of McMaster's Music Cognition program, during which time she had the opportunity to study jazz voice with Rob Fekete. A performer at heart, she has helped to establish an a cappella community at McMaster, starting 3 performance groups with singers from various academic and professional backgrounds. She co-chaired  the second annual Canadian A Cappella Conference (CanACC) and led Macappella to the quarter finals of the International Championship of Collegiate A Cappella (ICCAs) in both 2017 and 2018.
Check out:    "I Should Care"     "I Could Write a Book"
This performance is part of the WOMEN IN JAZZ series, sponsored by DIVA INTERNATIONAL, makers of the Diva Cup.