When:
October 31, 2020 @ 7:30 pm – 10:00 pm
2020-10-31T19:30:00-04:00
2020-10-31T22:00:00-04:00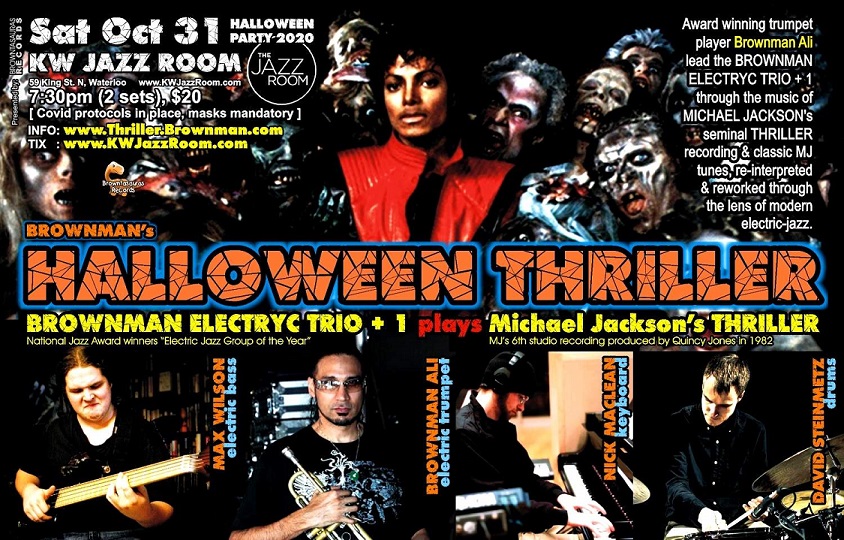 Acclaimed jazz / hip-hop trumpet player BROWNMAN ALI  will once again lead an all-star quartet through his popular annual Halloween Thriller concert. The much lauded BROWNMAN ELECTRYC TRIO + 1 will perform the entire Michael Jackson "Thriller" recording, interpreted and re-worked in the Miles Davis-esque fashion this multiple National Jazz Award winning improviser has become known for. In addition to the quartet performing Thriller top to bottom, other MJ classics will be featured through the night for this unique Halloween weekend jazz party at the KW Jazz Room in Waterloo.
"Delving so deeply into that record always leaves us speechless", states Ali. "Michael birthed so many incredible tunes over the years, but his collaborations with Quincy Jones on Thriller has to be one of the most towering musical achievements in pop music ever. Using that brilliant material every year on Halloween, as jump-offs for what we do makes for a party that's both danceable, but still rooted in exploratory improvising and deep reaching solos. We approach it the way Miles might have."
The BROWNMAN ELECTRYC TRIO has won 2 National Jazz Awards, 3 Toronto Independent Music Awards, a SOCAN award for composition, a CBC Galaxie Rising Star Award, and an International Independent Music Award for "2015 Jazz-Funk album of the year" for their release "Gravitation",  which hit number 4 on the iTunes USA jazz charts upon it's release.
ABOUT BROWNMAN — Heralded as "Canada's preeminent Jazz trumpeter" by NYC's Village Voice, Brownman Ali — born on the small Caribbean island of Trinidad, & schooled in NYC — is a multiple award-winning NYC-schooled protégé to his teacher, Grammy-winning trumpet legend, Randy Brecker.  He tirelessly leads 7 unique ensembles of his own including the internationally acclaimed Miles Davis influenced BROWNMAN ELECTRYC TRIO, and the award-winning CRUZAO latin-jazz quintet.  All these ensembles record under Brownman's own much lauded BROWNTASAURAS RECORDS label, established in 2009.  In high demand in the studio world with over 300 CD appearances to date, Brownman delivers stylistically authentic horn playing over a wide range of styles from bebop to hiphop having worked with the likes of Guru's Jazzmatazz (replacing Donald Byrd in that primordial ensemble), Mos Def, KRS-1, Quincy Jones, Paul Simon, Jay-z, Mingus Dynasty Big Band, Gary Bartz, Chucho Valdes & far too many more to name here.  He is considered to be one of the most unique and provocative improvising trumpet players in the nation today and is widely regarded as a vanguard for the evolution of Jazz in Canada.
A highly decorated player, his awards & accolades include 2 National Jazz Awards (with 11 nominations over the years), Montreal Jazz Fest's "Grand Prix Du Jazz" award, a CBC Galaxie Rising Star award, a SOCAN composers award, an International Independent Music Award for "Album of the Year", a Toronto Independent Music Award "jazz artist of the year" (6 nominations), a Black Canadian Award nomination for "Jazz Musician of the Year", an induction into the WHO'S WHO IN BLACK CANADA, a BRAVO! channel documentary on his life, NOW magazine naming him "Toronto's Best Jazz Musician", CBC Radio Canada named him "one of the most recorded trumpet players in Canadian history", NPR in New York calls him "the new standard in electric jazz", the Trinidad & Tobago Consulate General awarded him with a citation for being a "Distinguished National of Trinidad" and he is listed by Air Canada as one of the "Top 10 reasons to visit Toronto".
Please see their website:  http://www.thriller.brownman.com/
:: Brownman Ali – electric trumpet & spookiness
–> www.Brownman.com
:: Nick Maclean – keyboards & ghoulishness
–> www.NicholasMaclean.com
:: Max Wilson – electric bass & creepiness
–> www.Instagram.com/max_slap_bass
:: David Steinmetz – drums & ghastliness
–> www.instagram.com/davidsteinmetzz
Listen to:          "Red Clay, live at the Night Owl, Toronto"