When:
February 20, 2015 @ 8:30 pm – 11:30 pm
2015-02-20T20:30:00-10:00
2015-02-20T23:30:00-10:00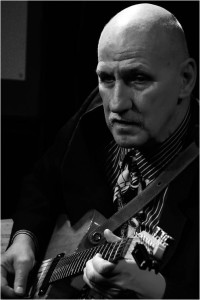 Ted Gibbons is the quintessential gentleman jazz player.  His guitar and band-leading chops are impeccable as this group promises to wind their way around known and less-known standards in what will be a night to remember.  As an educator, Ted is beloved in the community, and this is an opportunity for teacher to shine.  Gibbons has a knack for seducing the audience with his pure musicianship, and ability to make the music sing and dance.His band lineup for this show is loaded with local and regional talent
Matthew Lima is a gifted bassist on electric, fretless, and upright bass and has been very active in the local music community. Throughout his career, he has shared the stage with many amazing musicians, and toured extensively throughout Canada and United States. He has done numerous theatre works with many different productions, and countless fill-ins for other local bassists. Matthew has made a career of being an expert freelance bassist, his professionalism and attention to detail has made him a first call with many of his musical clients.
His playing history on the electric and upright bass includes touring with local Superstar band The Western Swing Authority, two-time winner for guitar at the Canadian Music competitions Kevin Ramessar, and Juno Award Winner Kellylee Evans.
Andy Macpherson has been playing percussion for over three decades and is the leader of the New Vibes Jazz Quartet in which he plays vibes. The NVJQ has had several sold out nights at the Jazz Room. Andy has worked in many large and small ensemble settings, spanning Latin, classical, rock, theatre and jazz. His studies at Humber College under the tutelage of Canadian jazz giants Ron Collier and Pat Labarbara in the late 80's were very formative. He is also drumming for KWs Big Band Theory, a 17 piece big band which is preparing for a recorded concert in April that will feature Canadian jazz icon Don Thompson. Andy also teaches mathematics at St. Mary's High School in Kitchener and directs the SMH Hypercussion Ensemble. Andy has performed with Ted Gibbons in the past when Ted was a guest of the NVJQ and so is thrilled to join Ted's quartet this time for another night of jazz.
Charlie Bell was born and raised in Kitchener On.  Bell began playing clarinet at the age of 9, then at 13 added tenor sax while continuing to perform in a variety of bands and orchestras under the direction of his first teacher Mike Bergauer Sr.  Living in Southampton On, Bell led the Stardust Big Band for 25 years, performed in a variety of small jazz combos and taught.  For the past five years Bell has featured many of Canada's top jazz artists with his quartet and he has performed with Neville Barnes, Priscilla Wright, Lenny Boyd, and other great Canadian musicians.
Ted Gibbons – guitar
Charlie Bell – saxophone
Matthew Lima – bass
Andy McPherson – drums