When:
May 10, 2019 @ 8:30 pm – 11:30 pm
2019-05-10T20:30:00-04:00
2019-05-10T23:30:00-04:00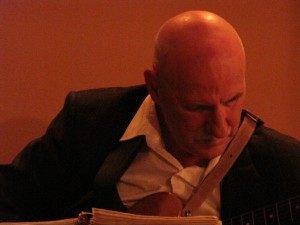 Ted Gibbons
After suffering an arm injury that had Ted sidelined from music for almost a year, he is back with his best musical project ever. "I used the time to re-evaluate my playing, and have evolved greatly because of it", says Ted, who is the quintessential gentleman jazz guitarist and educator.
He has once again joined musical forces with the remarkable Ken Foster to create a unique and delightful sound. Ted's mature, joyful and moving style, and Ken's warm and passionate melodious tone, create a perfect cohesion, while they promise to wind their way around great jazz standards in what will be a night to remember. In Ted's words, "If you love saxophone, Ken will add greatly to that love affair. And if you don't, you will after hearing him play". Gibbons has a knack for seducing the audience with his pure musicianship and ability to make the music sing and dance. Don't miss this chance to see one of our musical gems right here in the Region of Waterloo.
Ken Foster – Tenor Saxophone
Ken plays in Toronto with Double 'A' Jazz, and is a member of Kitchener-Waterloo's Big Band Theory, Sarnia's Bluewater Big Band, and the Jeff Daniels Group in Guelph.
The Ken Foster Quartet has accompanied many vocalists including June Garber, Denise Pelley and After Four, and has performed for the London Jazz Society and Jazz For The People concert series.
Larry Ernewein – Bass
Larry has been working as a bassist, both electric and acoustic, since the 1970's.
He has toured Canada and the United States as a classic rock bassist with several show bands, and performs in several styles including jazz, country & western and folk music.
He is one of the busiest bass players in Southwestern Ontario, playing regularly with several small combos, including the award-winning vocal jazz group After Four and The Ken Foster Quartet.
Sandy MacKay – Drums
One of Southwestern Ontario's most versatile and experienced drummers, Sandy is in demand in rock, pop, country and jazz genres.
Career highlights include opening for Alice Cooper, Deep Purple, and performances at several major international jazz festivals. He has shared the stage with many Canadian jazz artists including Peter Appleyard, Lorne Lofsky, Kirk MacDonald and Dave Dunlop.
Sandy is the artistic director of London's popular long running series "Jazz For The People" and hosts local radio broadcasts "Jazz Junction" and "The Beautiful Ones".
A Jack Richardson Music Award winner, Sandy currently performs with The Ken Foster Quartet, After Four, Enchanté, 60's rock trio The Young Ones, rockabilly/surf group The Stetson Brothers and dance band The J-Tones.