The sheer creative joy of this music is compelling. Led by bassist and composer Shafton Thomas, the band's vitality is it's diversity.
"If you're not excited about that, then you don't have a soul." – Shafton Thomas Group
Mackenzie Longpre delivers up swing, soul, R&B, funk and even rock grooves to accompany Thomas' driving pulse, while saxophonist Kristjan Bergey takes us through intimate scenes of introspection and blistering energy. Paul Morrison, the harmonic genius on the keys, rounds out this formidable quartet.
New York's own Chris Tarry ranks the group as a rising-star favorite, and the sell-out performances in Toronto tell their own tale.
"STG is one of my favorite promising young bands. They're not afraid of exploring, nor are they afraid of the groove, and when those two things come together, magic ain't too far behind" – Chris Tarry
Playing original pieces that would be at home in many genres, the arena jazz of the Shafton Thomas Group will lead you to places that you have never seen nor heard, but to which you will long to return.
Kristjan Bergey – tenor sax
Paul Morrison – keys
Mackenzie Longpre – drums
Shafton Thomas – bass/composition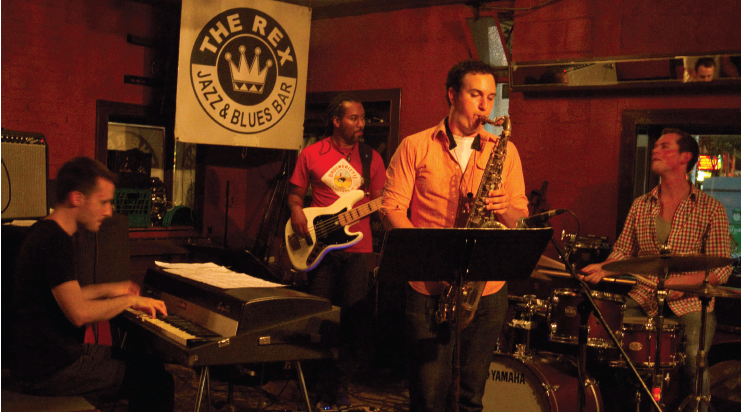 Visit our calendar for details on tickets, show time, and our opening schedule.