Rising star Will Fisher is a drummer of the East coast jazz scene that has toured central and eastern Canada with a dynamic mix of Canadian jazz.
"Whereas some drummers lead the charge and others spur on the ensemble from behind, Will Fisher takes the approach of examining the landscape from above and letting his rhythms settle down into the seams between the notes of others. A very strong album." – All About Jazz
Named "one of last year's strongest Canadian jazz debuts" by the Ottawa Citizen, Portage has earned two awards for Jazz Album of the Year.  Blending contemporary jazz with world and roots influences, the Will Fisher Coastal Quartet features an exciting line-up of musicians including:
Kirk MacDonald – sax
Mikko Hilden – guitar
Mike Downes – bass
Will Fisher – drums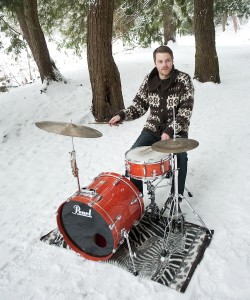 Visit our calendar for details on tickets, show time, and our opening schedule.